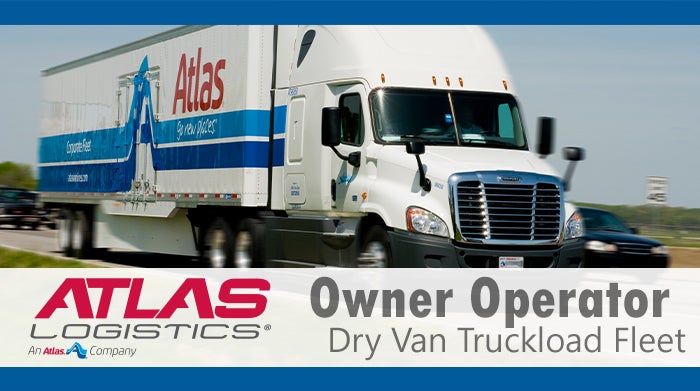 Upgrade your career and lifestyle through great pay, benefits, and a partnership with Atlas Logistics®. Be a part of our continued roadmap for success, founded in fairness and financial stability.
Drivers Needed
Atlas is signing on Class A CDL Owner Operator solos and teams for the Commercial Truckload Division (CTD), a small fleet running coast-to-coast live load/live unload and drop & hook shipments of new products, household goods, store fixtures, office furniture, and trade show exhibits.
Why DriveAtlas?
Drivers

Owner Operator Fleet (lease purchase options available as well)

Pay

Our drivers averaged $2.05 per mile in 2022. This average includes both loaded and empty mileage pay and includes fuel surcharge. Fuel surcharge is paid on all dispatched miles!

Average miles per week:
Single Operation- 2,500-2,800 miles per week
Teams- 3,500-4,200 miles per week

Freight

Dry Van Truckload Shipments - Light loads typically 15,000 - 25,000 lbs. and common commodities include new products, store fixtures, household goods, office furniture, and trade show exhibits.

Fuel Surcharge

The 2022 average fuel surcharge was $.66. Fuel surcharge is paid on all dispatched miles (loaded & empty). Based on the weekly national average (as reported by the U.S. DOE), our fuel surcharge model often covers most of our drivers' cost of fuel. When combined with nationwide fuel discounts, drivers can cover all of their fuel costs or even make extra revenue from the fuel surcharge! See more on this below in the How is Fuel Surcharge Determined and Paid section.

​

Discounted Fuel

The best nationwide full-year average discount was $.73 per gallon off the pump price (the December average was $1.09!). Our drivers receive discounts from TA, Petro, Pilot, Flying J, Love's, Sapp Brothers and others.

Bonuses

Annual mileage bonuses are paid as an additional $.05 per mile on your weekly settlements (which means you don't have to wait months at a time for your bonus to be paid out in installments). The mileage bonus also increases the longer you contract with Atlas!
Freight
What our drivers like the most is this job is our shipments are primarily NO TOUCH and lightweight (typically 15,000 – 25,000 lbs.), which is easy on an owner operator's rig and fuel budget! Atlas is widely known for household moving. But while the CTD transports household goods in peak season, these drivers are moving full truckload shipments (not lumping boxes or furniture) from dock to dock, yard to yard and primarily in the summer. Other goods more commonly transported by CTD include store fixtures, furniture, office furniture, electronics, and trade show exhibits.
Routes
CTD is an owner operator fleet that runs all 48 (coast to coast with some operation flexibility) transporting truckload dry-van shipments.
Additional Route Options
Will consider your regional restrictions; contact us to learn more.
Driver Benefits
Fuel surcharge paid on all dispatched miles
Nationwide fuel discounts
Flexible home time and no forced dispatch
Paid permits and Cargo Liability Insurance
Tolls paid nationwide (only two exceptions)
2 Free Blue Beacon Truck Washes per month
ComData Fuel Card (no hidden company charges)
Weekly direct deposit settlements
Free bobtail insurance
Clothing allowance
Cell phone reimbursement
Orientation pay and free room and board during orientation
Optional Benefits
Health, Dental, Life Insurance available
National tire account
Maintenance program
24/7/365 road service assistance
Travel service available
No cost year-round rider program for adult riders 18 yrs or older
Pets allowed
What is Included in Our Drivers' Mileage Pay?
The mileage rate we advertise is based on the recent division average. We don't advertise the "up-to" or top pay in the division. We advertise the average to be most fair and transparent with our contractors. Here is a breakdown of what is included in that average:
Mileage Base Pay - we pay ALL dispatched miles, loaded and empty ($1.20 loaded and $.84 empty)
Fuel Surcharge - 2022 Average = $.66 (1/1/2022 thru 12/31/2022). Fuel surcharge is paid on ALL dispatched miles, loaded and empty, and is calculated by the EIA reported national average and our corresponding fuel surcharge for that range.
Tolls and Bridge Charges paid nationwide
Annual Mileage Bonus - You earn more the more miles you run, and your mileage bonus increases the longer you are operating with Atlas.

Year 1 - $.05 bonus on all miles (miles 1 - 65,000 paid weekly; miles 65,001+ paid at one-year anniversary)
Years 2 thru 4 - $.10 bonus on all miles 65,000+
Years 5 thru 9 - $.13 bonus on all miles 65,000+
Years 10 thru 14 - $.16 bonus on all miles 65,000+
Years 15+ - $.19 bonus on all miles 65,000+

Additional Pay $75 Stop pay, $65/hour for detention, $35 for liftgate usage, up to $520 for truck order not used, $75 for equipment inventory and reset, and many more ways in which you are compensated.
While many drivers are accustomed to being paid a percentage, our per-mile model ensures you never have to be concerned about whether or not the freight you are hauling will provide you the revenue you need to be profitable. By combining our fuel surcharge with the huge discounts received nationwide, your income is stable regardless of fluctuations in fuel pricing. Likewise, your income is steady even when freight transportation costs plummet.
What Are the Mileage Bonuses?
While most companies lean on sign-on bonuses, paid out at different points throughout the year, we pay a startup mileage bonus of $.05 per mile in the first year.
Beginning in your second year, annual mileage bonuses apply and continue to increase over time. These bonuses are paid on all miles over 65,000 each year and as follows:
Years 2 - 4 = $.10 per mile
Years 5 - 9 = $.13 per mile
Years 10 - 14 = $.16 per mile
Years 15 and beyond = $.19 per mile
How is Fuel Surcharge Determined and Paid?
Our owner operators benefit from fuel surcharge paid on ALL MILES (loaded and deadhead), and our fuel surcharge increases faster than most (every $.05 instead of every $.10 like most carriers).
Recent Fuel Surcharge: $.55 per mile (as of 2/25/2023)
Fuel surcharge is provided based on current D.O.E. National Average, and we have consistently had the highest surcharge for van type operations in the industry.

Below are some examples of how our fuel surcharge can work for you.

$4.99 PPG / 6.4 MPG = $.78 CPM
$.78 CPM - $.65 FSC = $.13 CPM
$6.99 PPG / 6.4 MPG = $1.09 CPM
$1.09 CPM - $1.05 FSC = $.04 CPM
$4.99 PPG / 7.5 MPG = $.67 CPM
$.67 CPM - $.65 FSC = $.02 CPM
$6.99 PPG / 7.5 MPG = $.93 CPM
$.93 CPM - $1.05 FSC = ($.12) CPM
$4.99 PPG / 9 MPG = $.55 CPM
$.55 CPM - $.65 FSC = ($.10) CPM
$6.99 PPG / 9 MPG = $.78 CPM
$.78 CPM - $1.05 FSC = ($.27) CPM