We are seeking owner operators for the Corporate Relocation Division, our household moving division that runs coast to coast. Through great pay, benefits and a company culture of driver appreciation, Atlas takes pride in helping our drivers build successful careers.
In our small corporate household fleet of about 20 drivers, we treat each owner operator as an esteemed partner with Atlas. In doing so, we work toward building long-term relationships. Our average household van operator has been here for over 9 years. Turnover this low speaks for itself and is a testament to the success our owner operators find here in this division. Are you ready to sign on with one of the most recognized names in the home moving industry? If you have 24 months experience or more in household moving, consider an opportunity with Atlas.
Above Average Earnings
Our pay is competitive across the industry to provide the solid income you seek. You can count on above-average pay and assistance with expenses to maximize your earnings.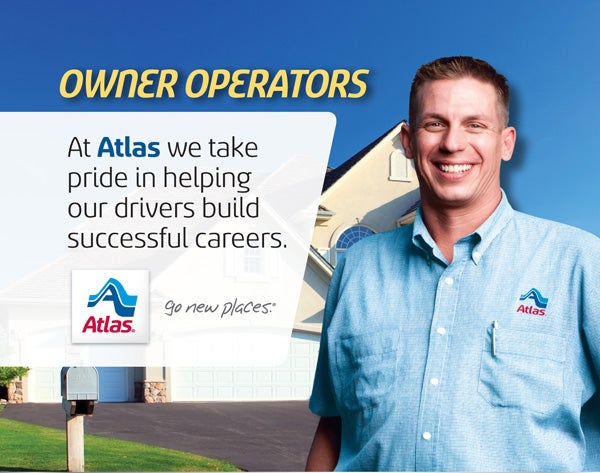 Drivers are the heart and soul of Atlas, helping us deliver on the promises we make every day. Consider an opportunity with Atlas, and you won't just be one of the team... you will be part of the family.
$210,000-$353,000 average annual gross
84% of the Haulers Share of the Line Haul (90% if you own and use your own trailer)
100% Fuel Surcharge
100% Accessorials
84% Orgin/Destination Charge
Your Advantages
Trips settled each week
Trailer provided at no extra charge
Atlas provides all inside van equipment
Nationwide Fuel Discounts
No cost-year round program (18yrs or older)
Toll Discounts Nationwide
Health, Dental and Life Insurance is available
Uniform Allowance
Most Pets Allowed
Fuel surcharge paid on all dispatched miles
Paid permits and Cargo Liability Insurance
Free Bypass weight station service
Free Blue Beacon Truck Washes
Orientation pay and free hotel stay during orientation
National tire discount
Maintenance program
24/7/365 road service assistance
Travel service available
Equipment Requirements
Copy of title or lease
Tandem axle tractor, no older than 10 years
Air ride suspension
Fifth wheel height 48" maximum from ground
Legal length with a 53' trailer and certified empty weight
Must pass our D.O.T. inspection
Tractor painted to Atlas specifications (talk to your recruiter about reimbursement)